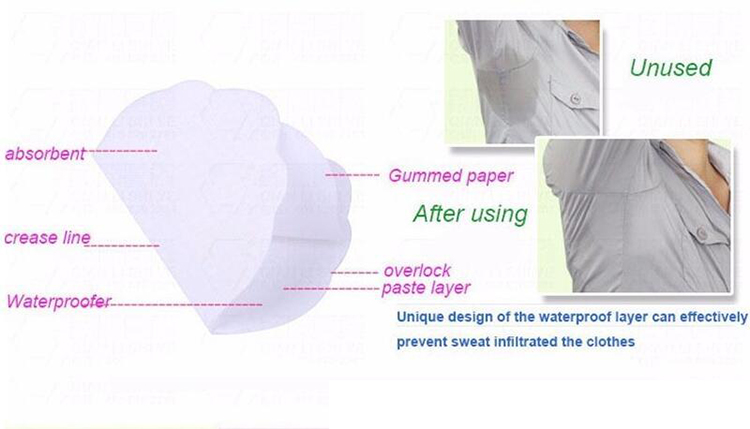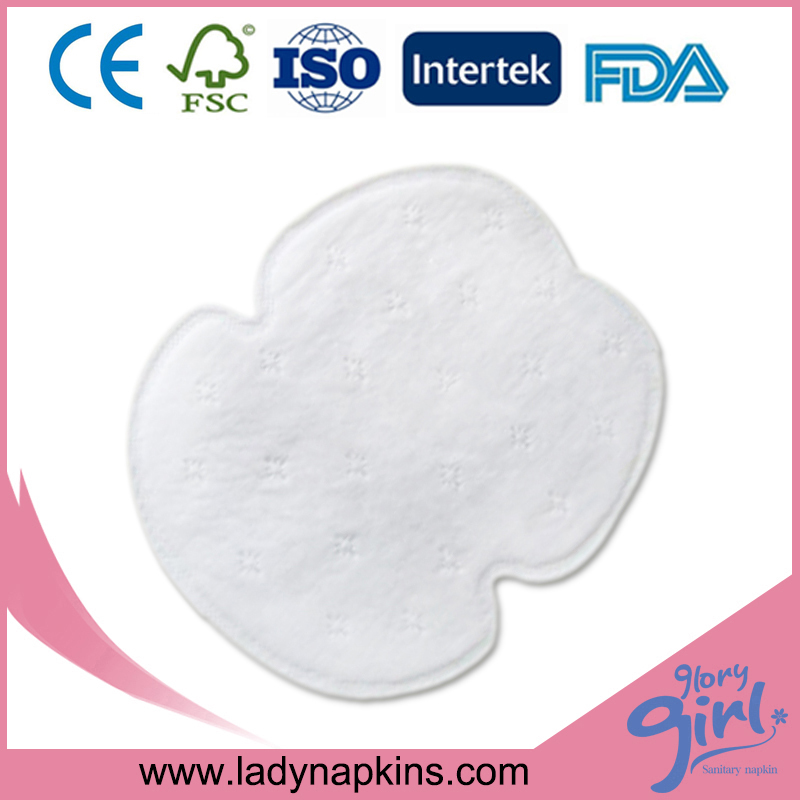 Feature:
1. 100% nature surface, soft comfortable, through skin allergy test, suit for all people.
2. highly combined ,stable, wonderful elasticity.
3. SAP imported from Japan. super absorbent, cleanly feeling.
4. PE breathable membrane film, free feeling about the underarm sweat pads .
5. Glue imported from German Henkel, wont destroy to the clothes, easy removing.
6. Protect the clothes from the stains.
7. Can add aloe, corn mint or herbal, anti-bacteria and anti-smelly.
8. More fashionable as the design like a shell.
9. Small and cute, convenience to take.
10. Popular and hot selling in european and america
11. Buttlefly pattern on armpit sweat pads
Different model for your choose
| | | | |
| --- | --- | --- | --- |
| item no., | Description of Underarm Sweat Shieds | weight per pc (g) | Size (cm) |
| AP01 | non woven topsheet, airlaid, back sheet, glue,release paper | 3.23g per pc with 15g absorption | 14.8*12.3 |
| AP06 | non woven topsheet, airlaid, back sheet, glue,release paper | 2.42g per pc with 10g absorption | 11.7*11.4 |
| AP08 | for short sleeve | 1.61g per pc with 9g absorption | 11.1*8.9 |
| AP09 | non woven topsheet, airlaid, back sheet, glue,release paper | 1.84g per pc with 9g absorption | 12.5*11.2 |
| AP10 | non woven topsheet, airlaid, back sheet, glue,release paper | 2.09g per pc with 11g absorption | 12.4*11.4 |
| AP11 | non woven topsheet, airlaid, back sheet, glue,release paper | 2.42g per pc with 10g absorption | 11*12.2 |
| AP12 | non woven topsheet, airlaid, back sheet, glue,release paper | 2.23g per pc with 10g absorption | 12*11 |
| AP13 | non woven topsheet, airlaid, back sheet, glue,release paper | 2g per pc with 9g absorption | 12*12.5 |