China supplier ultra thin super absorbency sanitary napkin with negative Ion
Why Choose Us
1, Over 29 years of feminine hygiene products production experience servo motor system. GMP, FDA SGS,COC,ITS certified etc.
2, The production use touch screen control, could catch up with 580 pcs/min. Strictly control the product absorption 15 min/time.

3, More than 29 years manufacturing experience. Cooperated / Cooperating with Woolworth, Coles, Mannings, Waston's, Walmart, Carrefour,Shoprite, Tescoetc.

4, Customize more than 120+ brands for over 80 countries.

This kind of sanitary napkin owns its characters that help girls and ladies enjoy their period time.
1. Anion Chip kill virus and protect human body.
2. Super soft cottony non woven cover brings comfortable and dry feeling.
3. Regular pad, natural and fresh pulp protect your skin and health.
4. anti-leakage.
5. Lovely flowers embossing on the pad gives the happy version.
6. Fashionable designed color printed back sheet, relaxing and enjoying.
7. No Chlorine & fluoresce.
Type

Day Sanitary Napkin

Night Sanitary Napkin

Super Long Sanitary Napkin

Panty Liner & Sanitary Pads

Size

230/240mm

280/290mm

310/320mm

140/150/155/180 mm

Spec

10pcs/pack

8 pcs/pack

10 pcs/back

8pcs/pack

10 pcs/pack

20pcs/pack
Product Description
1. Sanitary Napkin Specification:
Product
Sanitary napkin / sanitary pad
Usage
Day
Night
Length
235--245mm
280-290mm
Length also can be customized
Thickness
Ultra thin, regular, Maxi / Super, Overnight
Feature
1. Fluffy Soft Cover --- 100% cotton, eco-friend and soft
2. Breathable backsheet --- Skin breath fresh and freely
3. Super absobency --- Super absorbent core, no worry about leakage.
4. F.I.R (far infrared rays) --- promote blood circulation
5. Chinese Herbs Included --- No sensitive, no itchy
6. Excellent Adhesive --- Wide and Long adhesive on backsheet & wings to keep it stay tightly and firmly.
Material
1. Topsheet: Non-woven cloth / PE
2. Anion Chip: Can be customized
3. Wood-pulp
4. Hygeian paper
5. SAP: Japan SUMITIMO
6. Glue
7. Backsheet PE Complex film
8. Individual Package film: PE , Non-woven & Complex
Wings
With / without for option
Tips
Change the tampon at least every 4 to 8 hours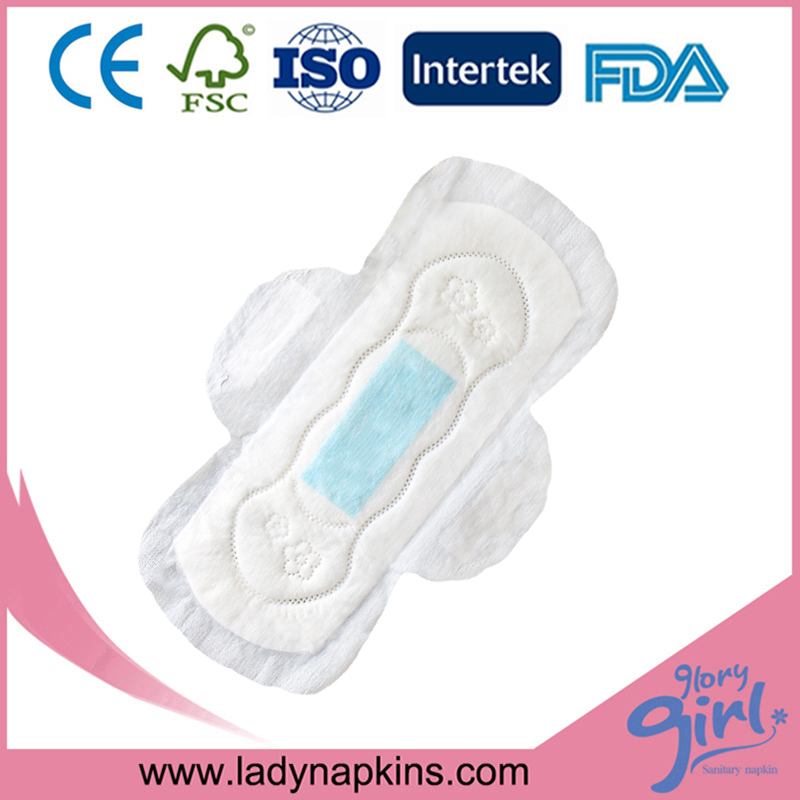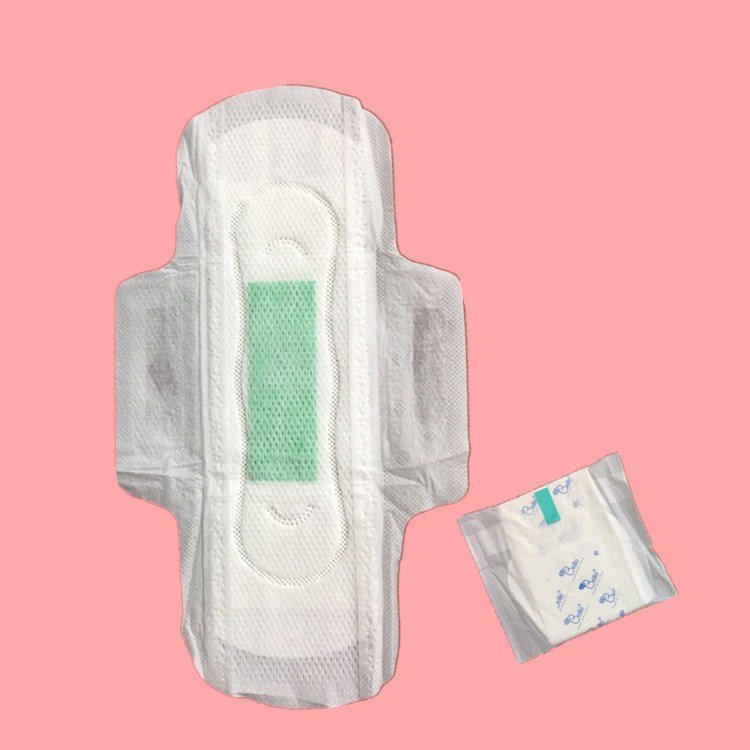 2. Product catalog:
Sanitary napkin: 180~320 mm long cotton / dry weave / ultra thin / regular / maxi / Super maxi/ winged / wingless / functional chips / scented
Sanitary pads: 140~180 mm long cotton / dry weave /T-shape / black liners / scanty ultra thin / fluff pulp / scented
Tampon: Digital Tampon/Compact Applicator Tampon/Pearl Applicator Tampon; available in mini / regular / super size
Sweat pads, sweat liners, shoe liners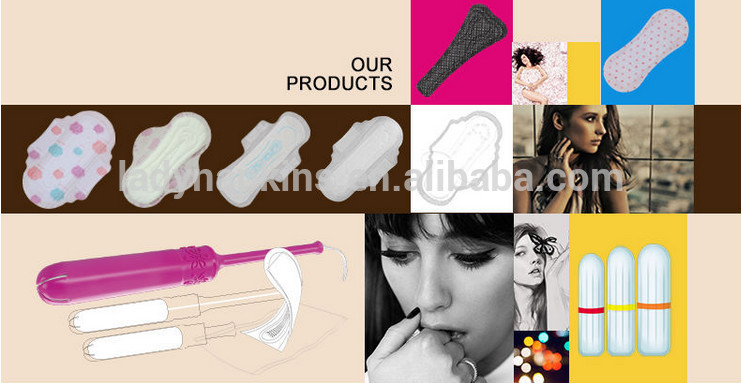 3. Hot wind cotton soft cover
The cover has been specially treated , it is unique , super soft, no itchy,no friction , silk touching feeling , protect your private skin carefully. you must be addicted to this comfortable feeling, like your lover's tender touching. Contamination-free workshop , ensure the pad absolutely clean and healthy, no virus will exsit when producing .
4. Ultra Thin
It is incredible ultra thin and light, only 0.1cm thickness; you can feel nothing when you wear it. Nobody can be aware of it even when you wear the tight and hot clothes.There is no embarrassing problem when you wear beautiful dress to take part in an important party, nobody will note that!
5. Great Breathability
Both breathable and hypoallergenic cottony top sheet and waterproof breathable backsheet enhance expelling the dampness,which can keep fresh and comfortable all the time even in hot summer.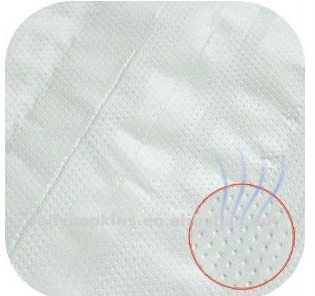 6. Excellent Adhesive
Wide and Long adhesive on wings and back sheet keep the hygienic sanitary napkin stay tightly and firmly on underwear, never worry about slipping away even doing vigorous activity.
7. Individually Wrapped, Easy to tear off
this kind of Bamboo charcoal sanitary napkin is individual wrapped and easy to tear off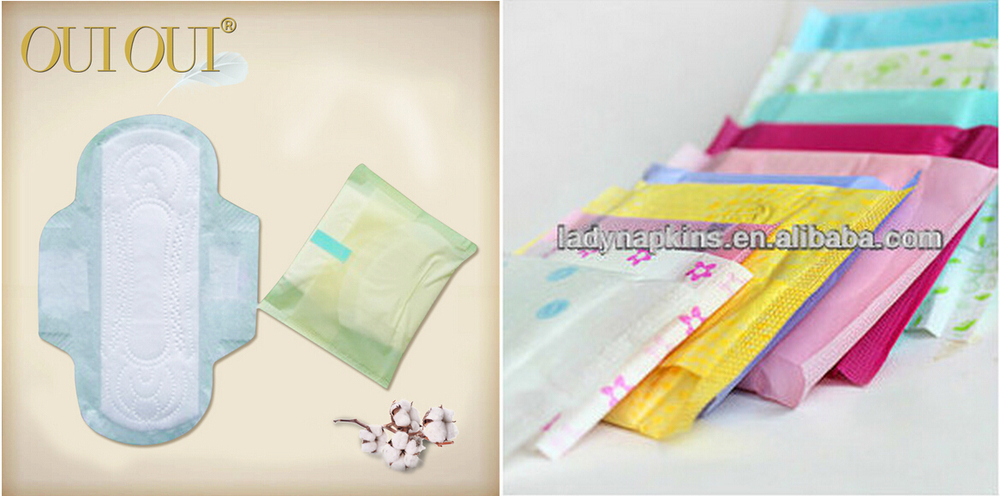 8. Indemnity
We promise no recycle substances are used to our products, only 100% safe materials that meet European standard and environmentally. We are liable for any failure to supply Goods, and for any defect in the quality of Goods supplied, in accordance with the terms of contract.
Inner Package:
Individually wrapped with disposal tape
Package details:

10 pcs Sanitary Pad/ bag, 48bags / carton
Accepted customized package
Different Package of Disposable Sanitary Pad for Option:
Common PE bag
Resealable aluminium bag
Resealable zip lock PE bag
Cardboard paper box
Drawstring PE bag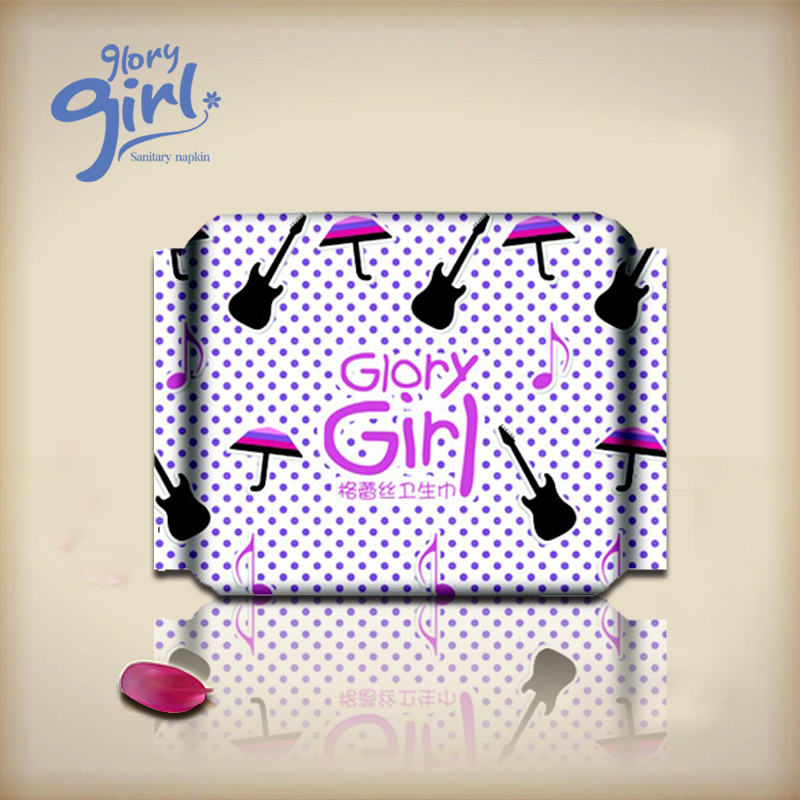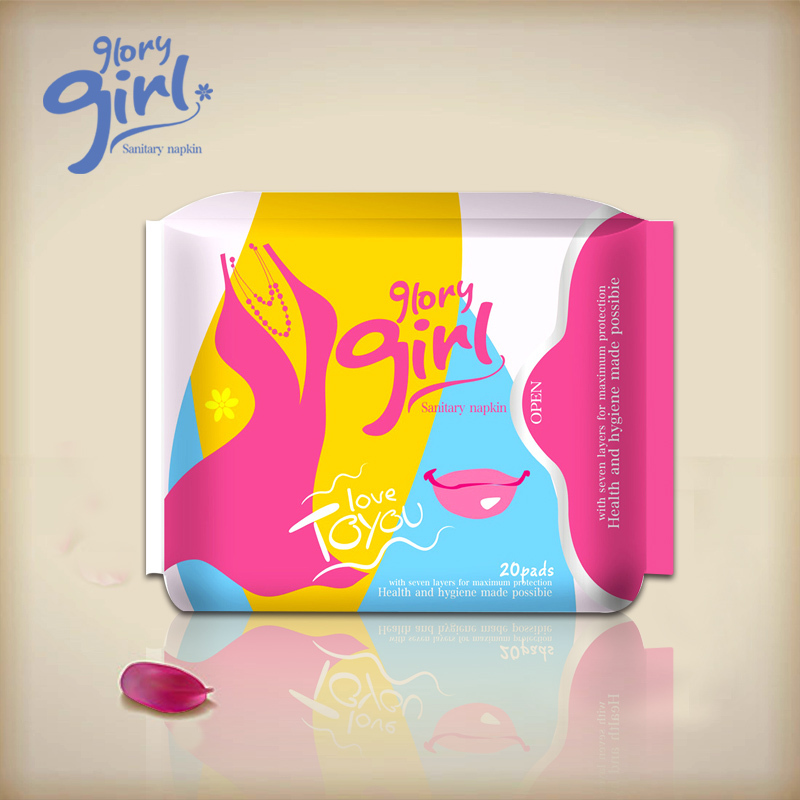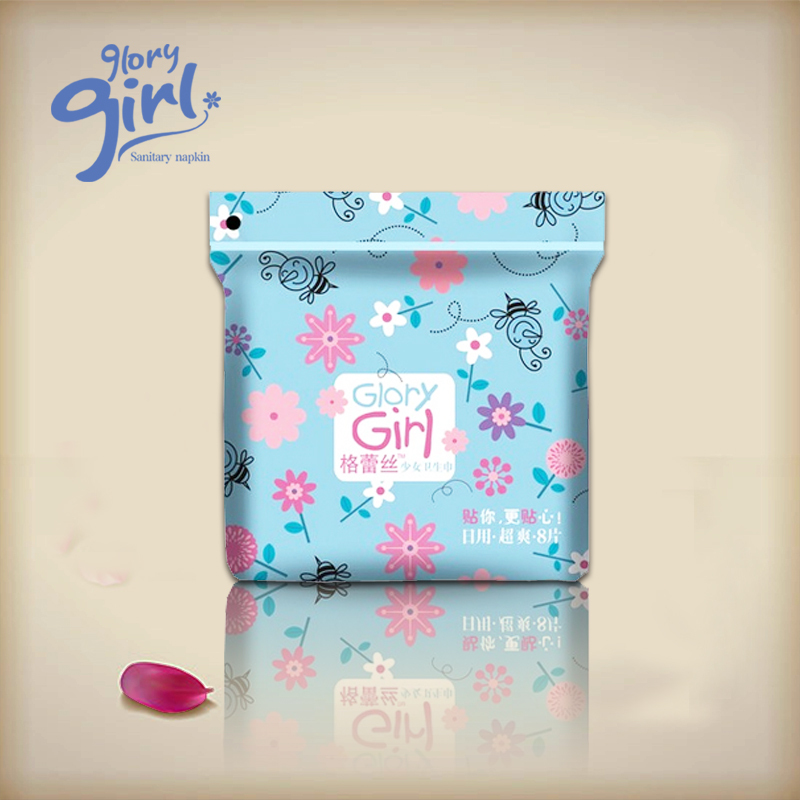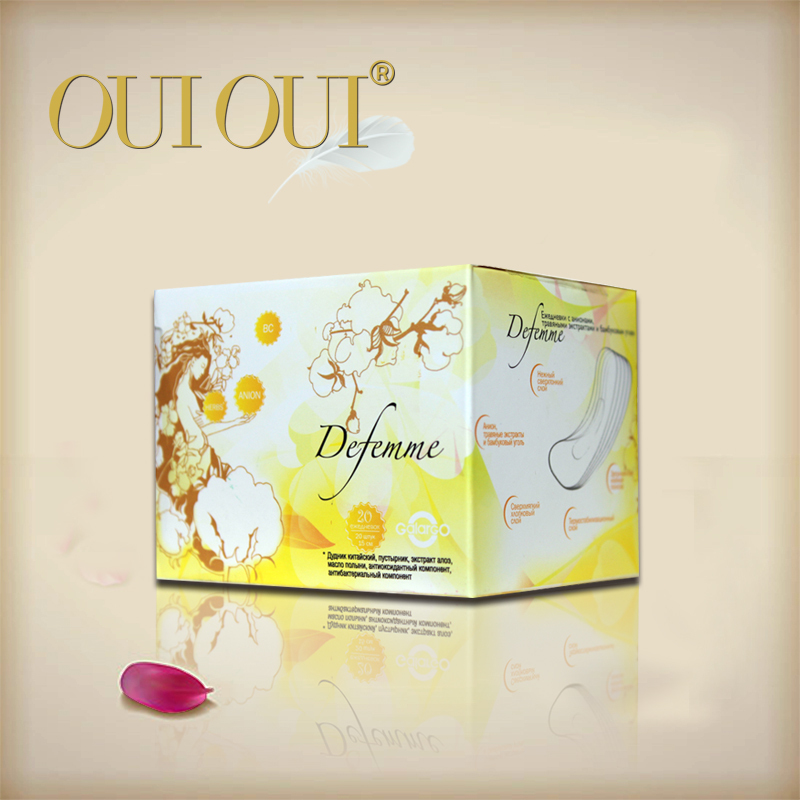 ...
Customized Brand printing & Package is welcome.
Certifications
Our certifications: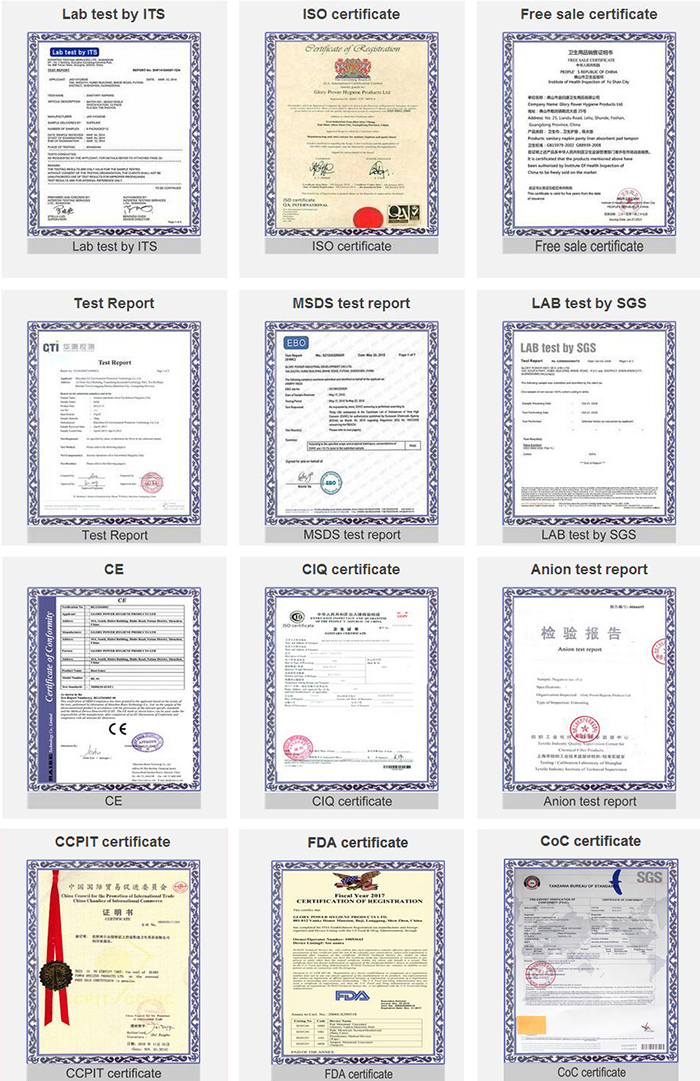 Company Information
Company info:

Our company is thoughtful, caring people and the focus of helping people reflects this. In the past years we`ve paid lots of efforts in charity and social welfare.
We opened a female care hot line for answering questions about female health.
We frequently donate thousands of pads to charity or other organization and rural areas.
We support children to go to school.
We will keep going our charity to help anyone who need
Our Services
We can supply negative ion sanitary napkin either under customer`s brand or our own brand.
(1) Free samples of sanitary napkin with negative ion
(2) OEM(Original Equipment Manufacture) and ODM(Original Design Manufacture) orders are welcomed here!
(3)Every package of sanitary napkin and panty liner with negative ion can put together with a Female Vagina Inflammation Self-Test Card
This could help women test their body immediately and conveniently.
Why Choose Us
(1)What we do?
We are specialized in manufacturing high level, fashionable, safe and healthy feminine hygiene products for women. Our products include sanitary napkins, panty liners, sweat pads and tampons in all size, type and grades. They are carried out with the standards of FDA, GOTS, CE, I S O 9 0 0 1, SGS ,ITS ,MSDS etc.
(2)Our factory
Our factory is garden-like modern plant which covers around 60,000 square meters, equipped by auto high speed and advanced production lines, all the devices equipped in high level ensure every pad we produce completely safe, hygienic and high quality. Quality control runs strictly throughout all the links from raw material to finished products
(3)Our capacity
Our production capacity is about 110 million sanitary pads per month, and 60 million panty liners per month. The products cover around 120 global retail brands. More vividly speaking, if made 170 million pads (one month output) connected total length is about 40,000 kilo meters which is a circle of our earth.
(4)Liability
We regard reputation as our precious life. Liability is a guarantee for us to go farther on. From raw materials to production, after production, delivery, after sales service, all products carried out under strict standards and regulations throughout all links. We guarantee every packet of pads in fine quality. We are committed to be a 100% liable enterprise.
FAQ
(1) Do you accept small order?
Yes,we do. We are having ready stock available now.
(2) Visit of factory?
Yes, warmly welcome a visit of our factory anytime.
(3) Could you provide free sample?
Yes, Free samples available.
(4)Other hot product
Now. our the most popular product have the Far-infrared sanitary pad, herbal medicine sanitary napkin, Fruit series santary towel and so on. if you want to know more popular product, please leave us a message.